The UNICAF Master Degree Scholarship with £9,000 Voucher now available for application on their portal. The opportunity to study Master degree online in United Kingdom universities will be open for 30 days for any candidate that apply to redeem the £9,000 Voucher.
Application Process
Fill in the form on this page, click on this LINK
A Student Adviser will call you to assist you with the application.
UNICAF admissions team will then reach out to you to schedule an interview, to discuss the admissions procedure and to help you with your scholarship application.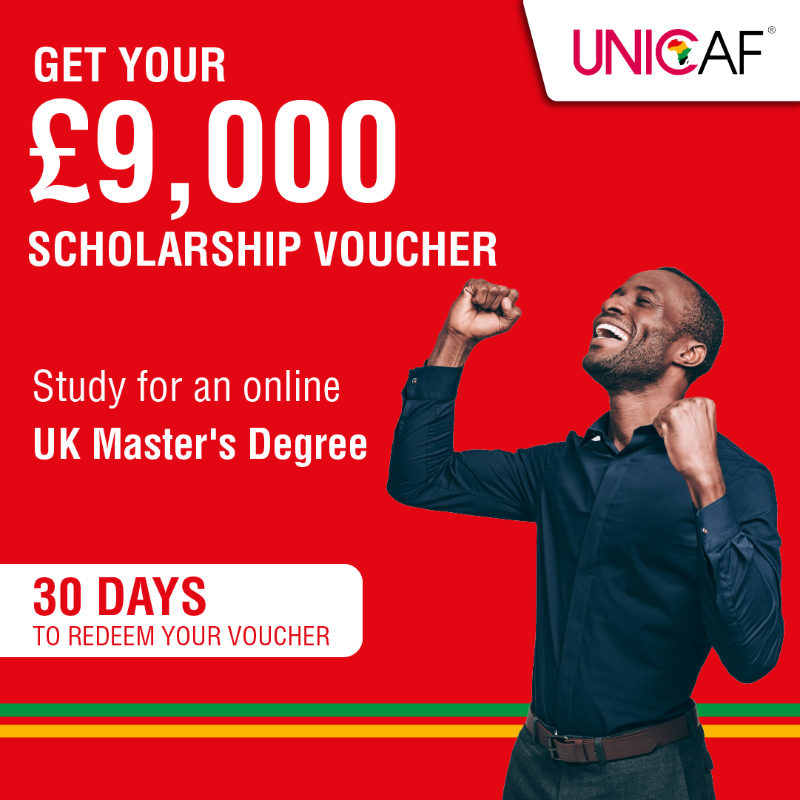 Entry Requirement for UNICAF Master Degree Scholarship
The institutions offering the Master Degree scholarship have different entry requirements:
UNICAF Scholarship Online Learning
E-learning system: Your classes will take place in an online virtual learning environment (VLE). You can log in any time, at your convenience. Once online, you'll communicate with your instructor and fellow students, read assigned texts, access digital learning materials and the eLibrary resources, post assignments and comment on other students' contributions to the class.
Online Instructors: We do our best to give our students the greatest possible support with dedicated online instructors. All of our online instructors are subject matter experts in their respective fields and have many years of experience at the highest standard. Your class instructor will endeavour to respond to your queries as fast as possible, with helpful advice and tips on whatever part of the learning material or assessments you may have a query about.
Online Classroom: The online learning experience will include extensive participation and interaction with the online class instructor and your fellow students.
For more information on UNICAF scholarship, Click Here
Recommended: ANAN Mandatory Continuing Professional Development MCPD Timetable for 2022