The Chartered Institute of Taxation of Nigeria CITN October 2022 Exam Diet Registration has begun according to the institute portal.
"This is to inform all registered Students of the Institute that entries for the October 2022 Professional Examinations commenced on July 11, 2022 and will be closed on September 25, 2022.  A one-week window for late registration with a penalty fee of Five Thousand Naira (N5,000.00) will be opened from September 26, 2022 till October 3, 2022. Candidates are therefore advised to pay their annual subscription (if outstanding), apply and submit their forms online as directed below":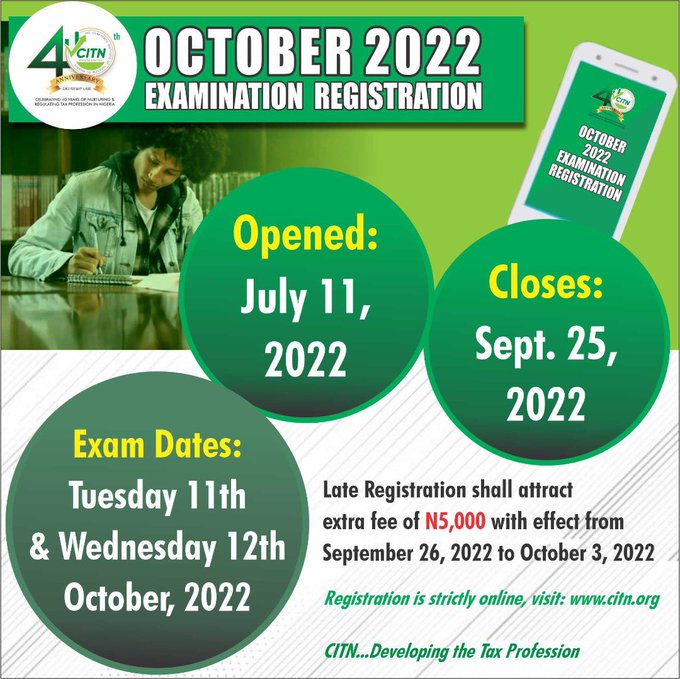 CITN October 2022 Exam Diet Registration Guidelines
1.         Go to www.portal.citn.org
2.         Input your username and password in "member login area" (A registered Student who is yet to obtain his or her username and password should request for same by sending a mail to studentaffairs@citn.org and copy christy@citn.org.  Use the username and password to update your profile and pay your due subscription.  Without performing this initial process, you cannot proceed to register for the examination. Click 'Register for an examination'
3.         Choose an examination centre, and then 'choose an examination'
4.         Students will be required to upload their signatures on the portal
5.         The page of the subjects you are to write will automatically come up
6.         Students are to tick the courses they intend to write
7.         Click on 'Proceed to payment' where a 19 digits' reference code will be generated.
DOWNLOAD CITN STUDY PACKS FOR FREE
OCTOBER 2022 DIET EXAMINATION DATES
Tuesday, 11th & Wednesday, 12th October, 2022
PAYMENT METHODS FOR EXAMINATION:
Candidates can choose any of the following payment options:
1.         Pay Online:
Process: Pay using any Bank ATM Debit Card (Mastercard, VISA, Verve) on Global Pay, Webpay or pay with Quickteller on the CITN Portal.
Using this channel, your application will be submitted automatically.
2.         Pay directly to CITN Access Bank (Diamond): Account Number 0105737871 or CITN Zenith Bank Plc 1010147149. Send Payment teller with reference code to exams@citn.org and aliyu@citn.org for update.
OCTOBER 2022 DIET EXAMINATION CENTRES
Examination will be held in the centres located in the following cities:
1.         Abuja 
2.         Ado-Ekiti
3.         Benin
4.         Damaturu
5.         Enugu
6.         Gombe
7.         Ibadan
8.         Ilorin 
9.         Kaduna
10.       Kano
11.       Lagos
12.       Port-Harcourt        
DOWNLOAD CITN STUDY PACKS FOR FREE
CITN AND ACCA
The Institute is at the peak of signing an MOU with ACCA which will accommodate its graduate members who are willing to become Associate members of ACCA in order to have some papers exempted.
EXAMINATION REGULATIONS AND MALPRACTICES:
Note that it is an offence for candidates to bring wrist watches (of any kind), mobile phone(s) or other electronic gadget including any incriminating material into the examination hall, the penalty for such offence and other examination offences are contained in the Institute's Examination Regulation and Malpractices document hosted on our website, kindly visit www.citn.org for details.
READ: How Lawyers can become CITN Membership in 2022