The Association of Nigeria Accountant of Nigeria ANAN Admission into Nigeria College of Accountancy NCA for 2022/2023 Academic Session. Admission to commence from September, 2022. Requirements and Procedures and for admission are stated below.
Admission Requirement for Nigeria College of Accountancy NCA for 2022/2023
Bachelor of Science B.Sc degree in Accounting from any NUC accredited Nigeria University or any approved overseas university.
Higher National Diploma HND Accountancy from any NBTE accredited Nigerian Polytechnic any approved overseas polytechnic.
Also, any applicant who is a graduate of an oversea University or Polytechnics is required to provide transcript of his/her academic records properly issued and signed by the registrar of the issuing institution.
B.Sc/HND in Business Administration, Management, Economics, Banking & Finance and Allied courses shall be admitted into conversion programs
Application Methods
Application is N10,000 and can be obtained as follow:
For online application, visit www.anancollege.org.ng
Obtain hard-copy form from any of the following addresses:
Nigeria College of Accountancy–> College of Accountancy Road, Kwali, Near Jos, Plateau State.
Association of National Accountants of Nigeria (ANAN)–>Plot 559 Mabushi District, Off Ahmadu Bello Way, Abuja
ANAN Liaison Office–> ANAN House, 250 Herbert Macaulay Street, Yaba, Lagos
Closing Date
Only application forms duly completed and returned with all relevant credentials not later than October 2022 will be considered for admission.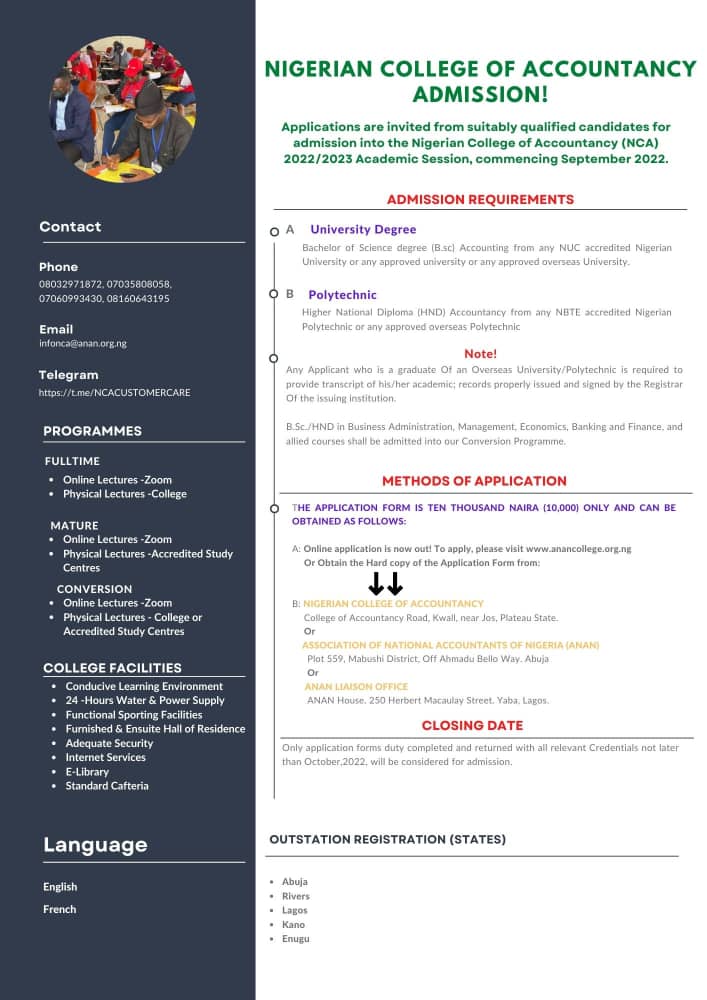 READ: ANAN Mandatory Continuing Professional Development MCPD for Owerri & Makurdi Rescheduled 2022