The ANAN Mandatory Continuing Professional Development MCPD 2nd Session in Bayelsa has been slated to hold on 4th April to 6th April , 2022, the venue is  Ecumenical Centre, Opposite JTF Headquarters,Igbogene ,Yenagoa, Balyesa State. See the list of prospective inductees
The MCPD second session in Bayelsa is themed as "Dynamics of Corporate Reporting and Governance"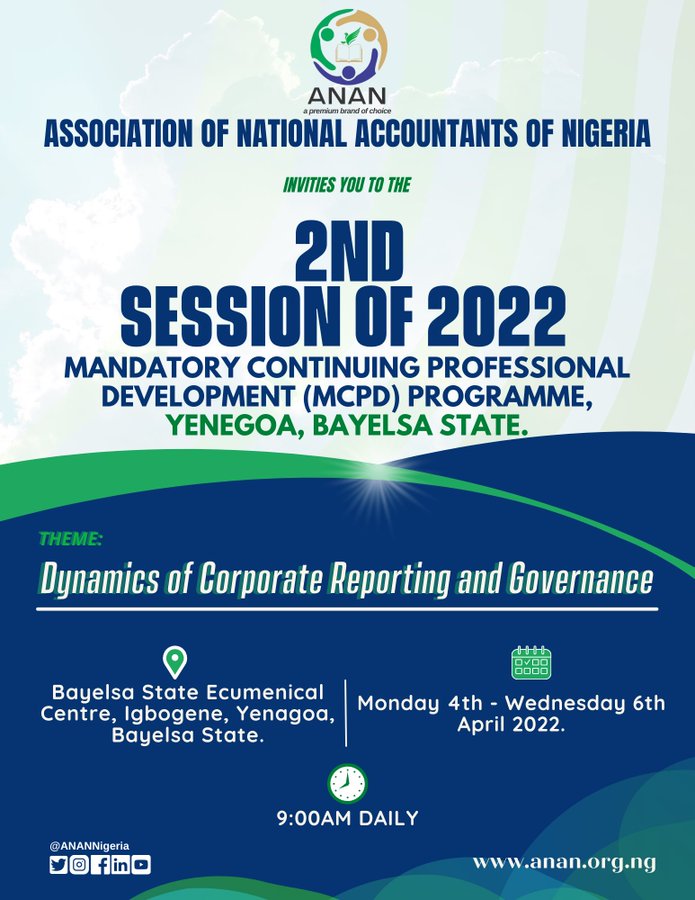 Pursuant to Rule 14(J) of the Association of National Accountants of Nigeria rules 1995, ANAN hereby invites you to attend the Mandatory Continuing Professional Development (MCPD) Programme, slated to hold in six (6) zones across the Country. Choose and attend any of the regions suitable for you. Second Session of 2022 MCPD is slated to hold as follows:
ANAN Mandatory Continuing Professional Development MCPD 2nd Session in Bayelsa
Date: 4th – 6th April, 2022.
Venue: Ecumenical Centre, Opposite JTF Headquarters, Igbogene, Yenagoa, Bayelsa Sate
WHO TO ATTEND: It is compulsory for every member of the Association to attend MCPD Programme at least once a year. There is no exemption. Certificate issued at the end of the course attracts 24 credit points. Members are free to attend any of the Sessions convenient to them.
Mode Of Payment: All Payments shall be made in favour of ANAN through Pay Direct at any Bank Branch or ANAN payment Portal, https://ananpayment.anan.org.ng
Online Registration:  After making payments, participants are required to register for MCPD on ANAN website, www.anan.org.ng by clicking on MCPD information box and supply the required information. Evidence of Registration (Printout) should be brought to the venue.
| | | |
| --- | --- | --- |
| Payment | CNA | FCNA |
| Course Fee | N40,000 | N40,000 |
| Annual Subscription | N15,000 | N20,000 |
| E-MCPD | N5,000 | N5,000 |
| Total | N60,000 | N65,000 |